Gond Laddu is a kind of Indian sweet prepared by mixing edible gum or gond- a naturally occurring tree resin- with ghee, unrefined cane sugar, and dry fruits. The base ingredient for this favored winter delicacy is wheat flour that is mixed with other ingredients and slowly roasted over a low flame. Other ingredients such as jaggery, almonds, cashews, dates, melon seeds, poppy seeds, and nutmeg can also be added to make this a wholesome sweet. This popular sweet ball also goes by several other names, such as Dinkache Laddu in Gujarati and Dinkache in Marathi. In Hindi, it is called Gond ke laddu.
How are the Gond Laddu made?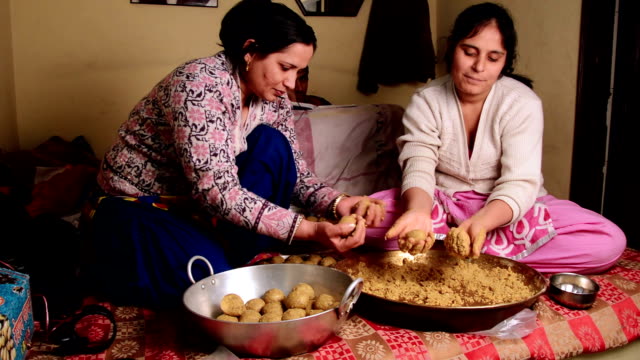 You can make Gond Ladoos by following the steps given below:


1. First of all, dry roast the ingredients until their color starts changing to light brown. As ingredients, you can use grated coconut, jaggery, dry fruit powder, aliv seeds, sauf, cardamom powder, etc. Next, blend the roasted ingredients into a fine or slightly coarse powder in a blender.
2. In a pan, add 1 tbsp of ghee and heat it-make sure you are not overheating it. Add 1 tsp of gond to it and fry it on medium heat until it fluffs up. Now perform the same procedure with the rest of the gond. Then transfer to a mixing bowl and crush it.
3. In a heavy bottom vessel, add some ghee and heat it. Once hot, add flour to it and keep stirring until it turns golden.
4. Add jaggery and stir till the jaggery melts and starts showing bubbles. Transfer the mixture to a plate and turn off the flame. Let it cool down a little.
5. Add all the previously roasted and blended ingredients and mix well.
6. Apply ghee to the palms and shape them into round balls. In case the mixture is too hot, try adding some hot ghee and mix it well in the mixture.
7. Store in an airtight container.
Here is why you should have Gond Laddu ?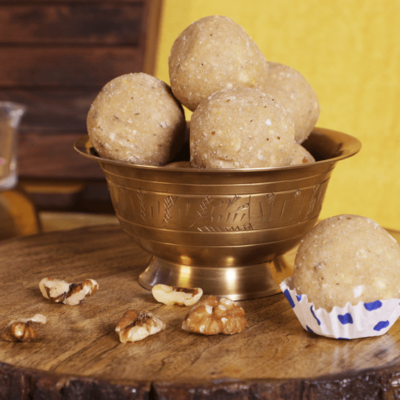 Consuming these laddus can definitely offer an array of advantages. Listed below are some reasons why you should eat Gond Ladoos.
Boosts stamina and immunity
As per Ayurveda, gond is known to boost stamina and health. The many ingredients in Gond Ladoo come together and aid in increasing our defenses to fight common ailments due to seasonal change. Regular consumption of gond is also great for strengthening the bones, spine, and teeth.
Lubricating properties
Gond also is known to treat low Vitamin D levels in the body. Due to the lubricating features and anti-inflammatory nature of the edible gum, gond ladoos are good for those suffering from Arthritis. As the ladoos help lubricate the joints, they are extremely powerful in reducing back pain as well as other joint pains.
Keeps the body warm
In winters, eating gond can efficiently keep the body warm and helps in avoiding illnesses such as the common cold and flu. So consumption of gond ladoos in winter makes the body feel fresh and strengthened.
Keeps diseases away
Extra fiber in the gond laddu helps with constipation and reduces the risks of diseases that arise from consuming adulterated food. Eating ladoos also makes the muscles strong and promotes weight loss, helps in managing diabetes, and keeps heart diseases at bay.
How do Gond Laddu benefit Pregnant women?
Ease the labor pains
Ghee helps in easing labor pains and makes delivering a baby much easier for a woman.
Boosts immunity and strengthens pregnant women
During pregnancy, the bones of the mother become brittle. In such conditions, the consumption of gond can prove to be very beneficial for them since it is rich in iron and calcium, therefore, boosting immunity to a greater extent.
Provides strength to women after delivery
There is a lot of weakness in a woman after the first child is born. In such a situation, eating not only improves the condition of the body after delivery as it contributes toward joints and bone strengthening and prevents post-delivery back pain,
Benefit lactating mothers too
Lactating mothers also benefit from eating gond ladoos as it has proven to increase breast milk production in them. The nutrients in these laddus help in building their strength and nourishing their bodies.
Comforts during post-pregnancy menstruation
Post-pregnancy menstruation can be heavy, along with some menstrual cramps. Gond ladoos help to keep the blood flow in check.
Faster recovery
The postnatal phase is as demanding and difficult for a woman's body as the prenatal phase. Gond ladoos provide a mother with the necessary nutrients that she needs after delivering the baby. The mother's body needs all the care it can get, and including gond ke laddu in the postnatal diet can help her recover faster.